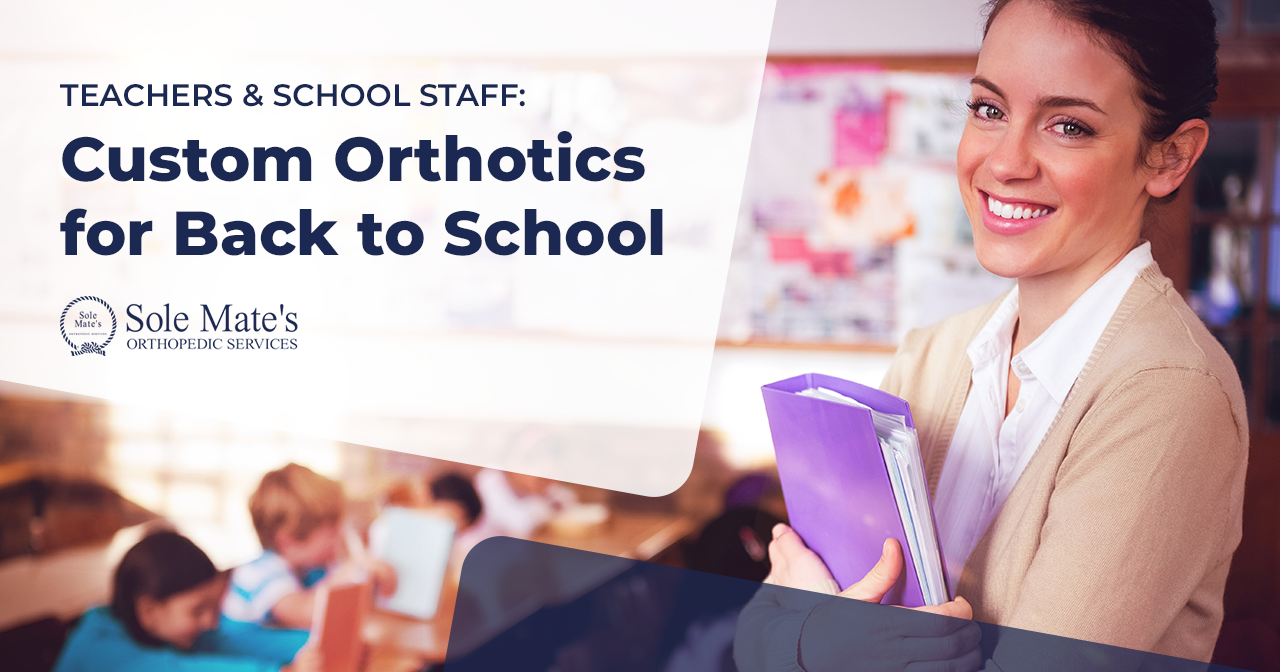 Orthotics are a great way to help start the school year off on the right foot – especially for teachers and school staff who will be on their feet all day. In this article, we'll look at ways to avoid foot pain with custom orthotics, and the importance of making sure that comfort comes first.
WHAT ARE CUSTOM ORTHOTICS?
A custom orthotic is a device that can be discreetly inserted in a variety of shoe styles to support, align, alleviate pain, redistribute pressure, prevent and/or accommodate foot abnormalities and improve how the foot and body function.
People of all ages can benefit from orthotics if they suffer from foot pain or a variety of conditions that benefit from orthotic intervention. The foot is a complex system of bones, joints and muscles that work together – a detailed assessment from a Licensed Canadian Pedorthist is the best way to determine if orthotics are right for you.
WHY TEACHERS CAN BENEFIT FROM ORTHOTICS
You know that standing all day can be tough on your feet. While it's a problem for teachers, let's not forget that there are plenty of positions within the school system who are in the same boat: custodians, teaching assistants, sports coaches, food service workers and many more. Foot orthotics are a great way to make sure your feet stay comfortable and supported during any activity. Whether you're giving lectures, conducting exams or you're on playground duty! Orthotics can help to alleviate foot pain, distribute pressure more evenly and improve posture. Foot orthotics can also help address lower limb pain, back pain and complications related to health conditions such as diabetes and arthritis.
You're doing a great job with your feet, but don't forget to take care of them!
DISADVANTAGES OF SUMMER FOOTWEAR
Flip-flops and sandals tend to be the footwear of choice during the summer. But most options on the market don't support the foot properly, and can create a variety of foot-related problems. If you're experiencing new pain in your feet following the summer break, we can assess your situation and evaluate your needs.
The bottom line is that comfort should always come first. When your feet hurt, it can affect your whole body. Custom orthotics can make a world of difference in how you feel. If you're ready to take the next step, contact us today!